. When I saw those beautiful napkins rings, immediately thought to myself "-Wow!! Those rings would be fabulous on my dinner table, tonight."
I came into the store and bought two sets, 4 pieces in each, why not 6 in each set? Maybe is for an evil marketing plan to spent more money that we need. Anyway, I bought the pair and came back happy to my place with my new fresh acquisition. When I started to lay the table I painful confirmed my worst suspicion: I've already put away my entire linen table in boxes, waiting for a new cabinet/TV rack that should be delivered in a few weeks more(I hope) So, I had in use only four blue ribbon bamboo placemats and…….. Paper napkins!!!??? The dinner would be a fiasco for simple napkins? No, no way. Frenzied had a look-in all drawers and little drawers in an incredible quest of the lost napkins. Until then I finally found four blue and red linen napkins. The dinner was saving. At this point you must wonder:" Ok, nice, but, and how about the meal? Well, the meal..? It was just a support for my rings napkins.
Chicken in coconut milk & Coriander
2 boneless, skinless chicken breast halves (10 to 12 oz. total) 1 tablespoon sesame oil 1 Tablespoon sunflower oil 2 tablespoon onion, minced 1 to 2 tablespoons prepared yellow curry powder 1 tablespoon minced fresh ginger ½ teaspoon cayenne 1 can (13,5 oz.) reduced-fat coconut milk 1 teaspoon brown sugar

1 tablespoon honey 1 package sliced bamboo shoots, rinsed Fish sauce or salt 2 tablespoon cilantro (coriander) finely chopped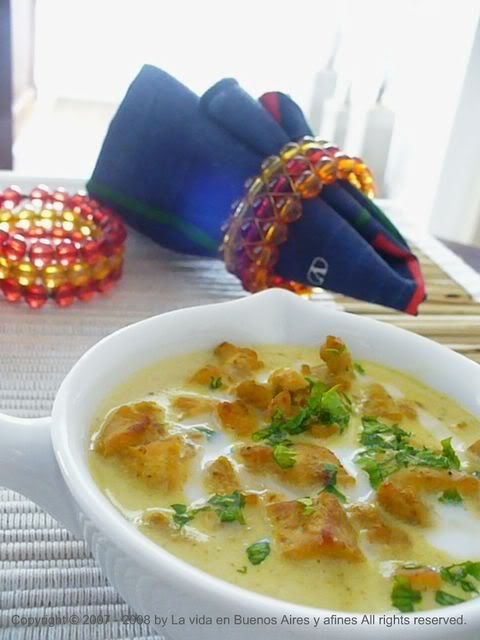 1.. Cut chicken into smalls cubes. Place a 10- to 12-inch frying pan over high heat. When pan is hot, add oil and onions; stir-fry 2 minutes.
2. Add chicken and cook, stirring occasionally, until lightly browned, about 4 minutes. Add honey, sugar, ginger and curry. Reduce heat to low and stir until are well blended. Add bamboo shoots and coconut milk; continue cooking until hot, 3 to 4 minutes. Add fish sauce to taste or salt. Sprinkle with fresh cilantro (coriander) Serve