Yesterday night I came back late at home.
I can't be bothered to cook now -I thought to myself. So, I opened the fridge searching inspiration. I saw two endives packages that I bought last Friday. Some leftovers chesses and a few slices of Parma ham. That's it, I thought happily. Those ingredients would make a perfect dish to tired and full days. Unfortunately my husband is not a huge fan of Parma ham. So I came out and bought 50g regular ham for him. He said Parma ham is too salty for his taste Can this??
I had seen some endives recipes around the blogs, but most of them are made with béchamel sauce. In this recipe I use fresh cream for three things. First the endive boiled and cooked in cream, saving steps as previous boil or steam, second it is easier to make than béchamel sauce and third, I learned this recipe like this, a long time ago, from my aunt who was geriatric doctor in Switzerland. She loved cook and was a big inspiration to me.
Argentine had good endives, almost on the same Belgian endives level. To truly enjoy them, select endives that are smooth and white with yellow tips and leaves that are closed at the tips.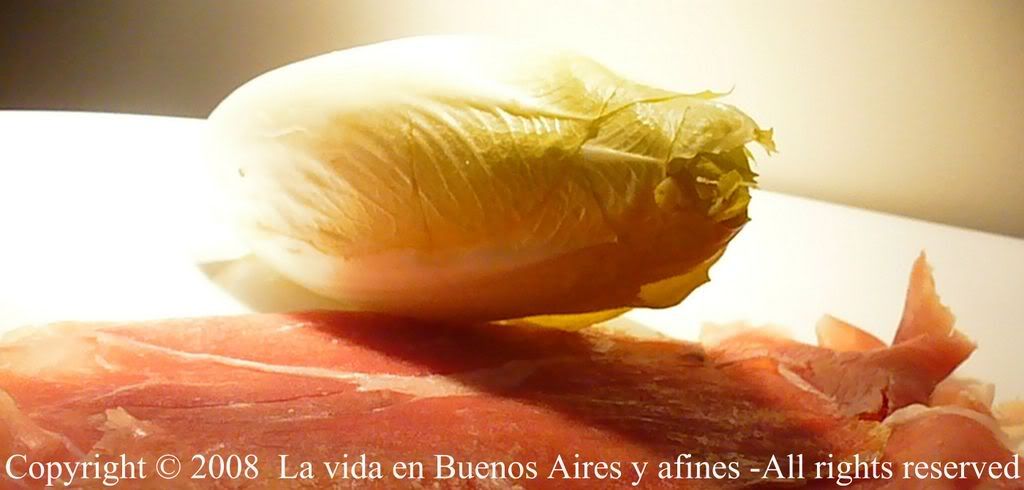 Endives au gratin
Ingredients: 3 large endives
3 slices Parma ham 200ml whipping cream
50g Grated Gruyere cheese (I used, blue cheese, gruyere, Parmesan, and cheddar) Salt and freshly ground pepper to taste Butter for greasing the dish Preheat oven to220°C.
1 Slice off the base of each endive.
2. Pour salt and ground pepper on cream
2. Wrap a slice of ham around each lightly salted endives and lay them on a baking dish
3. Pour the cream on top of the wrapped endives and sprinkle some grated gruyere cheese on top of it.
5. Bake it for about 20 to 30 minutes. Or until the cheese is golden brown
(Serves two)